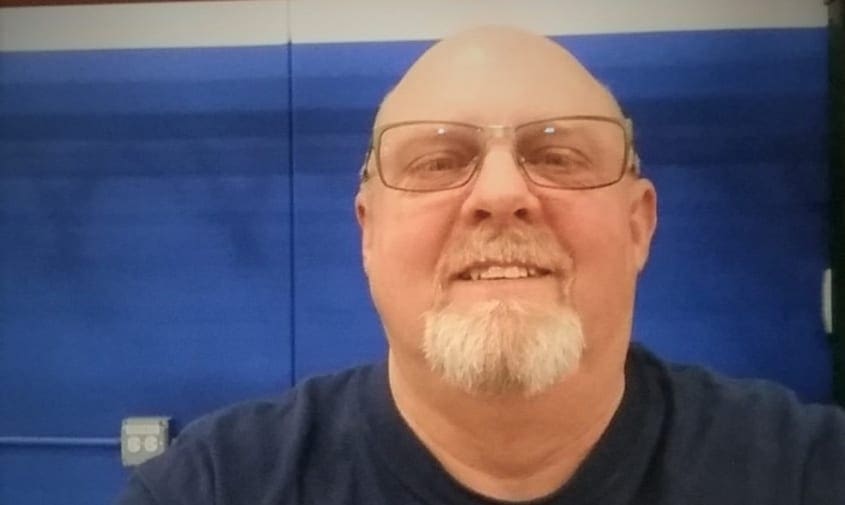 Rodney Lent thought compression stockings were the only solution to his leg pain until he underwent successful treatment last year at Gilvydis Vein Clinic.
The Cortland resident started experiencing swollen, itchy ankles about three years ago when his job shifted more from sitting to standing. His average workday requires him to stand 10 to 12 hours on a concrete floor using a computer. The problems bothered his right leg more than the left leg, but he scratched so much that an ulcer developed. When he'd return home in the evenings and remove his compression stockings, his ulcer would peel open again.
The advice from his primary care physician didn't seem all that promising. "He suggested that I wear compression stockings every day for the rest of my life," Lent noted.
Lent, 57, was flipping through a local newspaper and noticed an ad for a free vein screening through Gilvydis Vein Clinic (GVC) in Sycamore. The ad mentioned sore legs, varicose veins and swelling in the legs. He thought, "What can I lose? It's free!" Lent called the office after hours on a Saturday and got a call back on Monday to set an appointment.
"My legs hurt, and my feet were killing me," he recalled. "In the weeks prior to me visiting (Dr. Rimas Gilvydis), I was experiencing a sharp pain from the site of the ulcer. It felt like someone was sticking a needle in my leg."
As a physician who exclusively treats vein disease, Dr. Gilvydis sees many varicose vein patients who have developed ulcers. About 25 percent of patients present with advanced stages of varicose vein disease, which includes leg swelling, skin changes, and healed and active ulcers. Many people also associate varicose veins with just women, as many of these veins present during pregnancy. But about 45 percent of Dr. Gilvydis' patients are male, and there is no difference in the severity of the disease among the genders.
Lent underwent minimally invasive laser treatments for his varicose veins at GVC in October 2016. He had been skeptical that the procedure would work because of the severity of the ulcer and his pain, but he was encouraged by the depth of knowledge and friendliness of Gilvydis and his staff (and that the procedure was covered by insurance).
Because of the ulcer, Lent's procedure was a bit more painful than normal, but he said it was over quickly.
"I was not sore afterward," he recalled. "There was a bit of bruising and discoloration but no soreness. I walked out feeling confident, and I was glad it was over. The pain I had experienced daily was completely gone! The ulcer had healed and closed up within a week."
He was also surprised not to have any downtime from work. Now, he talks about his story to anyone who mentions leg issues.
"I actually boast about what a great place (GVC) is," he said. "The entire staff is great. (Dr. Gilvydis) is awesome, too!"
Lent still wears compression stockings at work but rarely on his days off. The discoloration on his right leg is still present but slowly diminishing, enough that he started wearing shorts again without worry of people "asking me about the big spot on my leg." He also no longer has restless legs, another benefit of the treatment.
"The results after laser treatment of varicose veins is nothing short of spectacular," Gilvydis said. "I tell patients that whatever symptoms disappear after treatment were likely due to their varicose veins, which allow old venous blood to drain back down and pool in the legs. By sealing and eliminating these veins, we improve the flow of old blood out of the legs.
"Most patients tell us that they are amazed at how much better their legs feel and that they wish they would gotten them treated years ago."
Gilvydis also works to educate primary care physicians about modern treatment for varicose veins. Any patients who present with legs that feel painful, achy or tired, restless legs, cramps, swelling or cellulitis should be evaluated for underlying varicose vein issues.
https://gilvydisvein.com/wp-content/uploads/2018/08/patient-rodney.jpg
588
984
Rimas Gilvydis
https://gilvydisvein.com/wp-content/uploads/2022/11/GVC-LogoUpdated.svg
Rimas Gilvydis
2017-11-30 10:50:48
2021-05-11 12:06:09
Cortland man scraps lifetime of compression socks for successful leg vein treatment