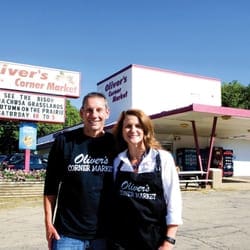 Tim Oliver owns Oliver's Corner Grocery in Dixon, Illinois, where he's also chief butcher. It's a job that keeps him on his feet most of the day. The 62 year old had varicose veins for years. (His mom had them too.) They didn't bother him too much, but in the last couple of years, he started to get blood pooling in his right ankle. It got to the point where it was disturbing his sleep because putting his legs up was so painful.
Another thing that bothered him was the way his legs looked. "I like to golf, and I was embarrassed to wear shorts," he said. "When my grandkids saw them they said 'you've got owies all over your legs.'"
As the pain became increasingly unbearable, he went to his primary doctor for advice. His doctor recommended laser treatment for his varicose veins. Unfortunately, there wasn't a facility near his home in Dixon that did laser treatment. However, his sister-in-law said she'd heard that Dr. Gilvydis is a great doctor.
Off he went to see Dr. Gilvydis to have his veins checked out. On initial exam, he was told that he had a really bad case of varicose veins. When Dr. Gilvydis recommended laser treatment, Tim didn't hesitate. "You've got a choice," he said. "You can improve your quality of life or do nothing."
Once he decided to have laser treatment, he didn't waste any time. "Golf season is coming up," he said. The first week of treatment, he went 3 days in a row for laser treatment on his right leg. Dr. Gilvydis used a minimally invasive laser technique called endovenous laser ablation (EVLA). Tim wore a compression stocking for a week, and the following week he saw Dr. Gilvydis twice for treatment on his left leg – five laser treatments in all.
Tim said there was literally no downtime. "I worked every day," he said. "It felt better to stand than just lay around. Standing felt so much better than putting my legs up." And Dr. Gilvydis encouraged him to walk as much as possible.
A month later, Tim went back for an ultrasound to make sure his veins were healing. The very next day he was back to have his spider veins treated too. "About half of our patients have a few residual veins after laser treatment," said Dr. Gilvydis. "We typically use ultrasound-guided foam sclerotherapy to treat them. It's usually one session per leg."
After completing the treatments, Tim couldn't be happier. "It's the best thing I ever did," he said. "My legs feel so good. I was amazed by how light my legs felt. They always felt so heavy. And they look so good too."
Tim is convinced that he chose the right treatment for his varicose veins. "Laser is the best way to go by far," he said. In fact, Tim said that while he was in the waiting room at the vein clinic he met a man who told him he had his leg veins stripped twice and the varicose veins had returned.
For anyone who's suffering from varicose veins but is hesitant to have laser treatment, Tim sends an open invitation to stop into his store to hear about his experience. "Come in and talk to me," he said. "I'll tell you to just do it. Your quality of life is going to improve dramatically, and you'll be happy you did it."
https://gilvydisvein.com/wp-content/uploads/2019/04/Tim-Oliver-photo.jpg
250
250
Rimas Gilvydis
https://gilvydisvein.com/wp-content/uploads/2022/11/GVC-LogoUpdated.svg
Rimas Gilvydis
2019-04-18 12:18:20
2019-04-18 12:19:06
Grocer Gets Quick Relief from Varicose Veins