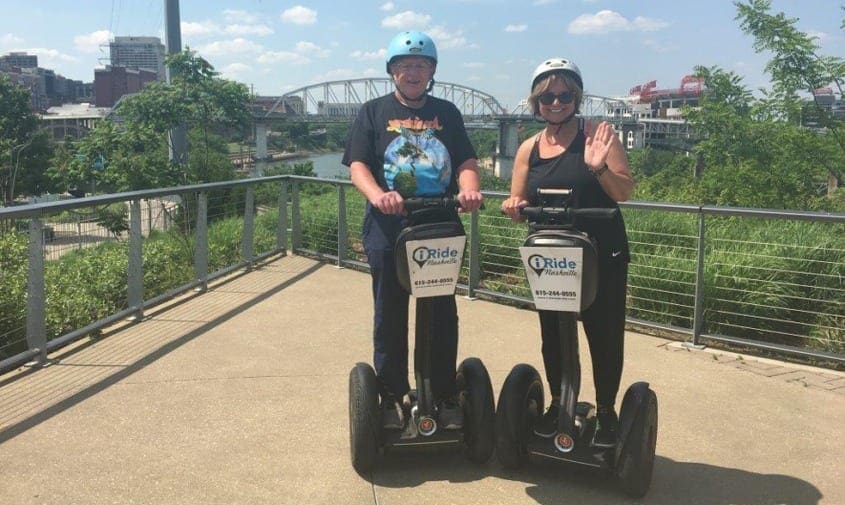 Tom Adland thought his varicose vein issues would permanently sideline him from everyday life. But then he met Dr. Rimas Gilvydis and his team.
Adland's varicose veins started bothering him about 15 years ago. Since that time, the now-68-year-old underwent three vein-stripping procedures.
"It was just to no avail," he recalled. "They came back and were worse, so I just kind of threw up my hands."
Genetics play a part in his condition, as two of his brothers also sought treatment for varicose veins. And while exercise can help decrease the symptoms from varicose veins (Adland used to be a jogger, and he and his wife, Lynn, played tennis and racquetball and rode bicycles together), even those types of activities became too painful. It hurt just to sit, he said.
Things got so bad that walking a one-block distance with Lynn to a restaurant or shop was difficult. "She would get to the end of the block, and I'd only be halfway there. It hurt to extend my stride and try to keep pace. People got tired of waiting on me."
Lynn heard about Dr. Rimas Gilvydis from patients who had reported great results with minimally invasive laser treatments that are now available. So Adland made an appointment.
"During my consultation, I started to describe to Dr. Gilvydis how my legs hurt and how they limited my lifestyle. He stopped me halfway through and said, 'We're going to solve that. We're going to give you two new legs.' And by golly, he did it."
Dr. Gilvydis said pain and swelling are among the most common symptoms of varicose veins, and those symptoms are caused by venous stasis – old, stagnant blood pooling and collecting in the legs, which worsens as the day goes on. Venous stasis is caused by permanently damaged valves in the legs. Patients often attribute this and its symptoms to being part of the normal aging process, but, left untreated, symptoms worsen: swelling, pain, purplish discoloration, cellulitis, scar tissue, ulcers, bleeding varicose veins and blood clots.
Varicose veins can be easily closed with Endovenous Laser Ablation (EVLA) in an outpatient setting. Once treated, the venous stasis resolved, Dr. Gilvydis said.
Adland said he never had any pain with the laser treatments, a major change from the leg-stripping procedures of old. "There was an occasional pinch, but Dr. Gilvydis was always good about warning me."
Recovery was also painless, and Adland was pleased that the compression stockings he wore post-treatment had also improved in design through the years.
Adland grew especially fond of the clinic's staff during his treatment appointments. "They go out of the way to make sure everything works for you. They're great people."
He connected to the staff so well, he used his experience working in aerospace to help ease an employee's fear of flying. He appreciated that staff members were always flexible in making appointments that fit with his work schedule.
The clinic's comprehensive vein care begins with patient education, Dr. Gilvydis noted. And because EVLA treatment is very standardized, the staff can create a comfortable environment in the treatment rooms: Patients can select the type of music they listen to; they have their own ultrasound monitor, which allows them to see the work being done; and because only local anesthesia is used, Dr. Gilvydis and his team are able to talk with patients throughout the entire procedure.
"We want every patient to understand what varicose veins are, how they are affecting their health and how we can help them," Dr. Gilvydis said. "The more our patients are educated about varicose veins and their treatment, the less anxiety they are likely to experience."
Today, Adland can proudly "keep pace with anyone." In less than a year, he has shed more than 75 pounds, and his ability to exercise and focus on his health has improved with the leg vein treatment.
"I can't say enough good things," Adland said of his experience. "I've recommended the office to anybody who is willing to engage in a discussion about varicose veins. You can't ask for a better specialist to work with."
As for Adland's "two new legs," Dr. Gilvydis said patients often describe their legs feeling lighter and younger, not experiencing swelling or aching, and lamenting that they wish they would have sought treatment sooner.
"I am pleased with every single patient we treat, whether the varicose veins are mild, moderate or severe," Dr. Gilvydis said. "Having specialized in EVLA over the past 14 years, there are no patients that we can't treat. Tom presented with a history of prior surgical stripping and blood clots. This doesn't affect our scope of treatment. In fact, the more complex and advanced the varicose vein disease, the more I would like to treat patients, as their results can be very dramatic."
https://gilvydisvein.com/wp-content/uploads/2018/08/Tom-Adland.jpg
588
984
Rimas Gilvydis
https://gilvydisvein.com/wp-content/uploads/2022/11/GVC-LogoUpdated.svg
Rimas Gilvydis
2018-08-31 15:12:11
2021-05-11 11:57:05
Varicose vein treatments gives patient 'two new legs'