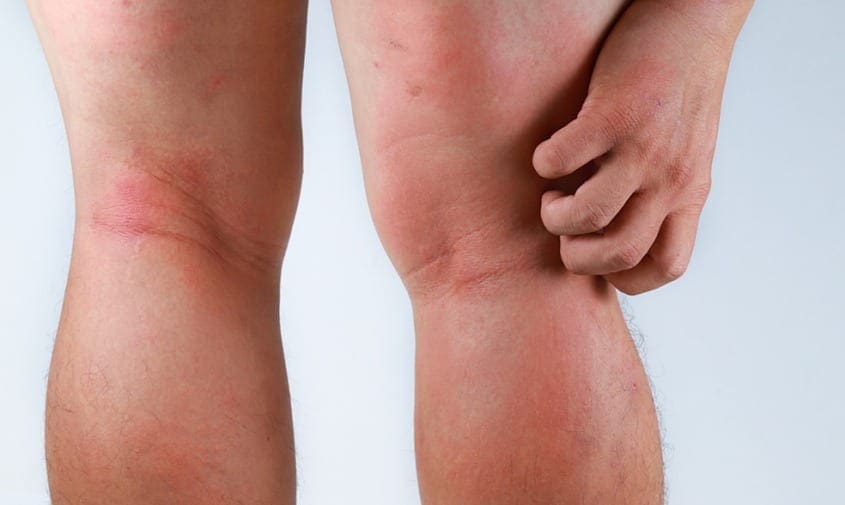 When most people think about varicose veins, they picture bulging purple or blue veins in their legs. In addition to being unsightly, they also cause pain, burning, cramping, swelling, and a heavy, achy feeling. But did you know vein disease can also affect your skin?
Chronic venous insufficiency occurs when your veins have difficulty sending blood from your limbs back to your heart. As a result, blood collects in the legs and ankles, leading to inflammation, swelling, and skin changes. Read on for some examples of skin conditions that can be related to varicose veins.
Venous Eczema/Dermatitis
Also known as stasis dermatitis. This is an inflammatory skin disease occurring on the lower legs because of fluid buildup, this condition typically affects the ankles and shins, causing them to become red or brown as fluid accumulates in the tissues. The skin may become thick, itchy, flaky, ulcerated, discolored or prone to bleeding. Left untreated, it can lead to skin infections and chronic leg ulcers.
Psoriasis
Most people don't think of vein issues and psoriasis in the same sentence, but a study by the National Institutes of Health found a link between psoriasis and blood vessel inflammation. A chronic skin disease, psoriasis is characterized by red, flaky patches on the skin, primarily the elbows, knees, scalp, face, lower back, palms and soles of feet.
Vein Ulcers
It may begin with a simple discoloration on the inside of the leg just above the ankle – a simple bruise or broken skin, possibly accompanied by pain, itching or swelling. For most people, the problem clears up within a couple weeks, but when someone suffers from vein disease, the wound often never heals. It may increase in size, becoming a painful, raw, shallow wound that produces a foul-smelling discharge. A secondary condition associated with venous ulcers is contact allergic eczema, which is caused by medications applied to the skin, such as steroids, topical antibiotics, and lanolin, along with preservatives present in various preparations.
Treating CVI (Chronic Venous Insufficiency)
Treating your chronic venous insufficiency through noninvasive procedures like endovenous laser ablation (EVLA) or sclerotherapy will not only eliminate your gnarled, twisted leg veins, but will help heal these skin conditions and prevent them from coming back. Contact us today for a free screening and get back to loving your skin.
https://gilvydisvein.com/wp-content/uploads/2020/08/Skin-Conditions.jpg
588
984
Rimas Gilvydis
https://gilvydisvein.com/wp-content/uploads/2022/11/GVC-LogoUpdated.svg
Rimas Gilvydis
2020-08-03 13:31:08
2021-10-29 13:04:03
Do You Know Skin Conditions Can be Linked to Varicose Veins?