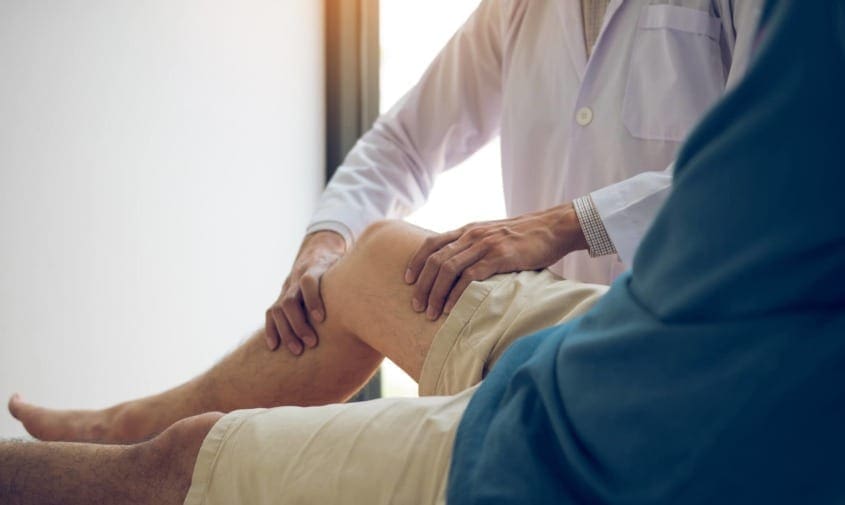 Varicose veins are a common condition, affecting up to 35% of the U.S. population by some estimates. That shared experience means people seek us out here at Gilvydis Vein Clinic in a variety of ways.
Individuals can contact us directly for a screening or consultation if they're experiencing symptoms of vein disease. Those symptoms include burning, itchiness, and achiness in the legs, or visible/unsightly varicose and spider veins.
Many patients also are referred to us by their primary care or family practice doctors, which is why we work with many Geneva- and Sycamore-area hospitals and health systems to educate physicians about the progression of vein disease and what that looks like.
Another specialty that's often familiar with vein disease is podiatry. A podiatrist is a physician or surgeon who treats the foot, ankle, and other parts of the leg.
Because podiatrists already observe and treat the feet and legs, they can also refer individuals to us for further consultation and treatment. That means if you talk to them about your symptoms and they understand and recognize vein disease, you can then come to us directly for an ultrasound and to determine the next steps for treatment.
Signs that vein disease may have progressed include if you have ulcers on your legs that aren't healing or reappear. Doctors will sometimes close or repair these ulcers and then they come back, which could be a sign of venous hypertension/insufficiency. That means the valves that help blood flow through the legs aren't functioning properly.
Progressive vein disease also could look like darker clusters of varicose or spider veins along the inside of the ankles with associated symptoms of itching or burning, or if the skin feels leathery.
Here's what we strive to do when educating podiatrists and other physicians (as well as patients):
Identify the symptoms of varicose veins.
Recognize the progression of vein disease, which will worsen over time if left untreated.
Explain that minimally invasive treatment is available and effective (long-gone are the days of painful vein-stripping procedures you may have heard about from your mother or grandmother).
Make an appropriate referral to a board-certified vein expert like Rimas Gilvydis at Gilvydis Vein Clinic.
As a reminder, you can reach out to us anytime for more information about vein disease and to request a screening. Don't hesitate to also ask your existing health care team – a nurse, family doctor or podiatrist – about varicose veins and be honest and open about your symptoms.
Image Credit: Getty/wutwhanfoto
https://gilvydisvein.com/wp-content/uploads/2020/11/GettyImages-1157487856.jpg
1414
2121
Rimas Gilvydis
https://gilvydisvein.com/wp-content/uploads/2022/11/GVC-LogoUpdated.svg
Rimas Gilvydis
2020-08-27 11:42:17
2020-11-03 11:39:27
Ask Your Podiatrist about Varicose Veins