Sclerotherapy is a non-surgical treatment to treat varicose and spider veins effectively. The procedure entails a solution called sclerosant being injected into the vein. The sclerosant is an irritant that causes the vein to scar, acting as a spider vein treatment by forcing the blood to reroute through healthy veins. The collapsed vein then shrinks until they are reabsorbed into the surrounding tissue and are no longer visible. This technique makes it both an effective spider vein treatment and varicose vein treatment.
At Gilvydis Vein Clinic, we are committed to the well-being of every patient. Whether you're dealing with spider veins, varicose veins, or another condition, sclerotherapy may be the answer. As a minimally invasive vein treatment option, our team of doctors, vein specialists, nurse practitioners, nurses, and other medical professionals have the training and experience to ensure your sclerotherapy runs smoothly.
Recommended Uses
Our sclerotherapy procedure is relatively quick, painless, and uncomplicated, getting you back out the door in just a short amount of time. Many seek sclerotherapy for aesthetic reasons, as in the case of spider veins or collapsed veins. Others need relief from the discomfort associated with varicose veins, including:
Aching
Burning
Cramping
Swelling
Throbbing
Although this is a popular vein treatment, it isn't for everyone. Sclerotherapy is not recommended in the following circumstances:
If you are pregnant or nursing
If you are allergic to the sclerosant
For treatment of deep venous thrombosis
What to Expect with Sclerotherapy
Before Sclerotherapy Treatment
You will have an ultrasound vein mapping on your leg to determine if you have vein disease or if this is a cosmetic problem. Our nurse practitioner or physician assistant will be meeting with you to explain the ultrasound results and go over your personalized vein treatment plan.
During Sclerotherapy Treatment
The outpatient procedure takes approximately 15-45 minutes. It is performed in our clinic office. You will lay on a table and your legs will be slightly elevated. The area to be treated will be swabbed with alcohol. The doctor will inject the solution into the vein with a fine needle that may be combined with a local anesthetic like lidocaine.
You may experience some minor discomfort like stinging or possibly cramping upon the insertion of the needle. Once the area has been treated, and the needle is out, the physician will apply compression and massage to spread the solution. If the sclerotherapy procedure involves multiple areas, these steps will be repeated for each.
After Sclerotherapy Treatment and Recovery
Once your treatment is complete, your doctor will encourage you to get up to walk immediately. Not only does this improve your comfort. You will be instructed to wear compression stockings. You will need someone else to drive you home from the treatment.
Though you can resume most activities immediately, you should avoid strenuous exercise for approximately one week after receiving sclerotherapy. Since the treatment can cause some inflammation, you'll want to avoid the direct sun so that you don't form dark spots on your skin. The darker your natural skin tone, the greater the chance of dark spots.
Risks and Side Effects of Sclerotherapy
As with any therapy, there are also risks with sclerotherapy.
Temporary Side Effects at Injection Site
Bruising
Raised red areas
Small skin sores
Darkened lines or spots on the skin
Multiple tiny red blood vessels
Risks of Sclerotherapy Treatment
Allergic reaction – Another uncommon symptom, but occasionally patients react to the sclerosant with itching or swelling.
Blood clots – Blood clots are possible and may require drainage. Although very rare as a direct result of this procedure, the blood clot could travel to a deeper vein, causing deep vein thrombosis. The risk with DVTs is pulmonary embolism, where the clot travels to the lungs and blocks an artery. Call emergency services immediately if you experience any of the following symptoms:

Difficulty breathing
Chest pain
Dizziness
Coughing up blood

Inflammation – Though usually mild and not a problem, some patients may experience more discomfort than others, including heat, pain, and swelling around the injection site. Your aftercare instructions will list the recommended over-the-counter treatment, such as aspirin or ibuprofen. However, as noted above, if the inflammation is within 5 inches of the groin, contact your doctor immediately.
Some of these side effects are temporary, though they can take from hours to years to completely abate. Others are more serious and may require treatment. The side effects usually go away within a few days to several weeks.
The Benefits of Choosing Gilvydis Vein Clinic for Sclerotherapy
At Gilvydis Vein Clinic in Sycamore, Naperville, Rockford, and Geneva, we are associated with the American Vein and Lymphatic Society, the Society of Interventional Radiology, and the American Board of Venous & Lymphatic Medicine. Accredited by the Intersocietal Accreditation Commission for vascular testing, we take our work very seriously.
Each of our medical professionals and vein specialists has proper education and training to perform your sclerotherapy procedure.
Dr. Gilvydis specializes in interventional radiology, diagnostic radiology, and neuroradiology. Our physician assistant, Mark Whitney, specializes in family medicine, venous and lymphatic medicine, and vascular medicine. We also staff registered vascular technologists, diagnostic medical sonographers, and other professionals who will help you stay comfortable during your visit and procedure.
Gilvydis Vein Clinic is conveniently located in both Sycamore and Geneva, so no matter where you live and work, you'll always have easy access to our offices. We realize your days get busy, and we do what we can to accommodate your needs.
Contact Gilvydis Vein Clinic to Schedule an Appointment
There's no reason you need to live with the pain and embarrassment of varicose or spider veins. Sclerotherapy is a solution that most patients can take advantage of. Contact Gilvydis Vein Clinic today at 815-981-4742 to request your appointment in Sycamore, Naperville, Rockford or Geneva, or click below to schedule a free vein screening. We look forward to helping you get back on your feet!
Long days of teaching exacerbated the burning and restless feelings in Kendra Brauer's legs. The bruises and visible veins also provoked curious questions from her second-grade students if she wore anything shorter than full-length pants. Brauer first noticed a bruise on her leg when she was in her mid-20s. Slowly, more veins showed up and […]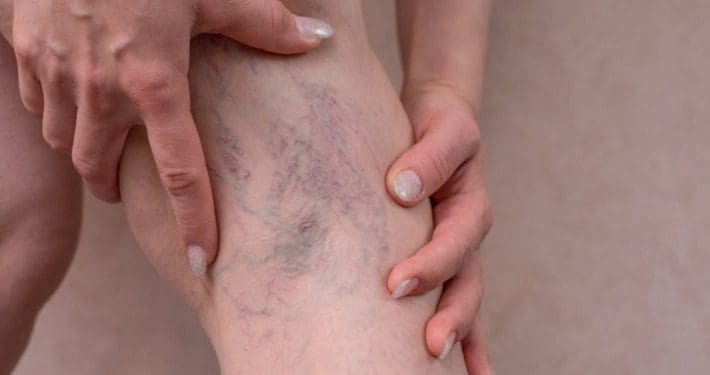 Varicose veins may look harmless at first—but this couldn't…
Gilvydis Vein Clinic
Locations
ACCREDITATIONS