What Are Varicose Veins? 
Varicose veins are swollen, raised veins near the surface of the skin. They generally appear on the legs and feet and can have a twisting and turning appearance, and are blue, red, or purple in color.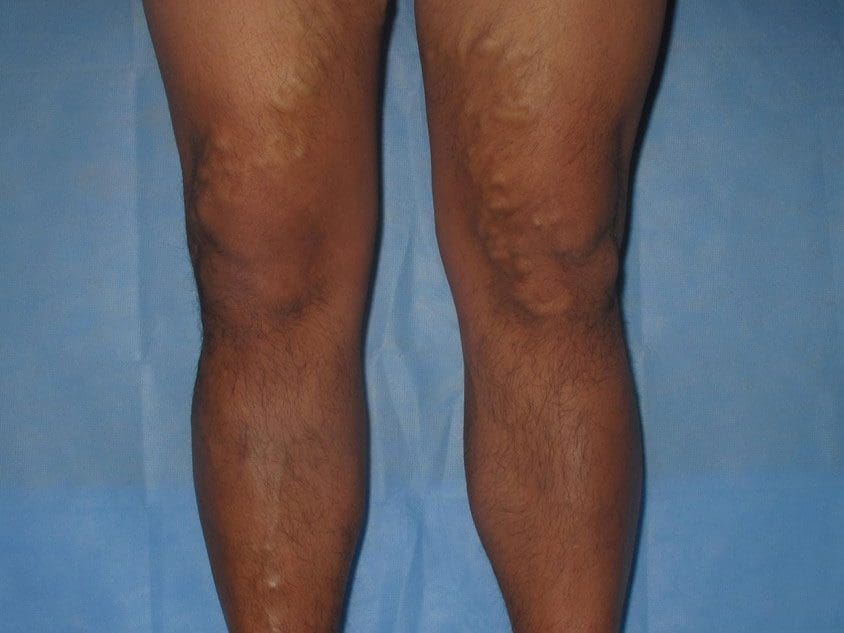 BEFORE
AFTER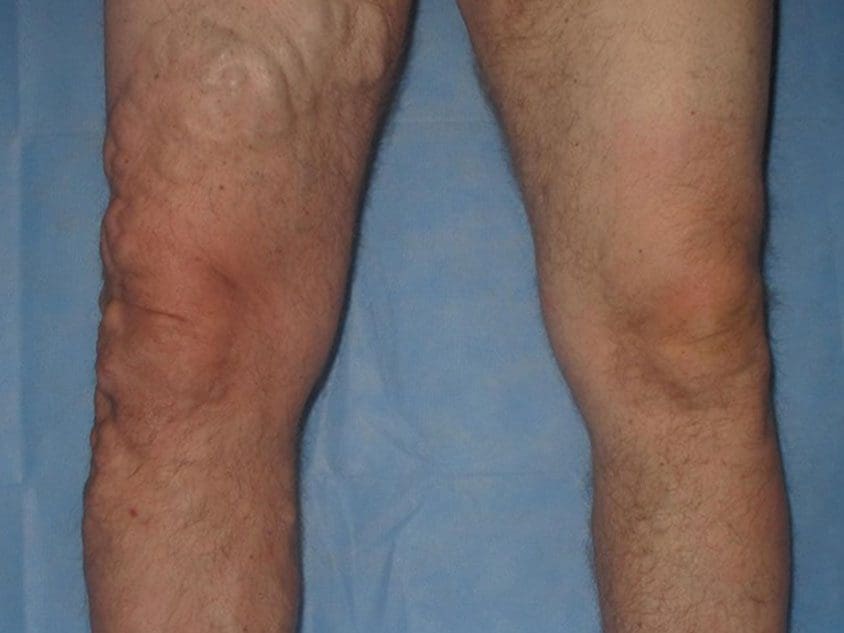 BEFORE
AFTER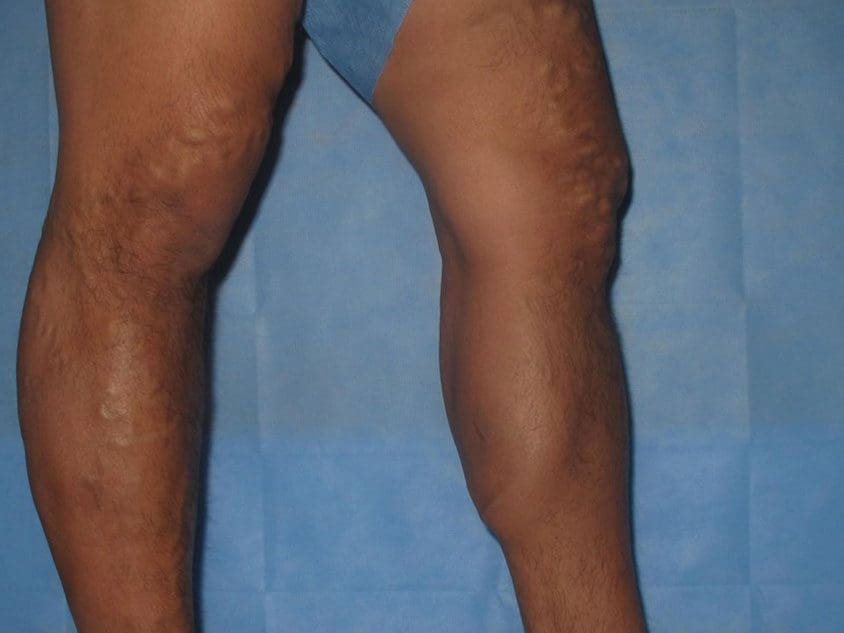 BEFORE
AFTER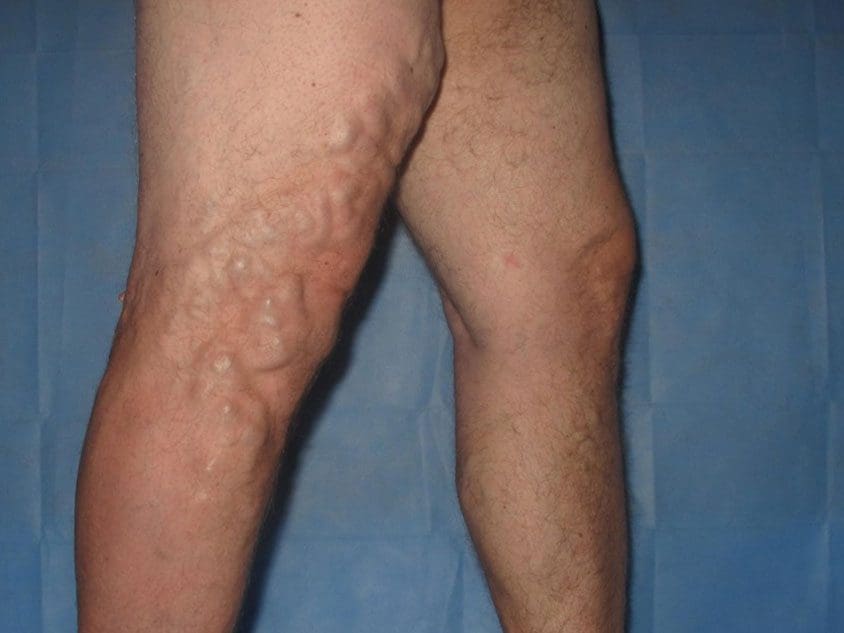 BEFORE
AFTER
BEFORE
AFTER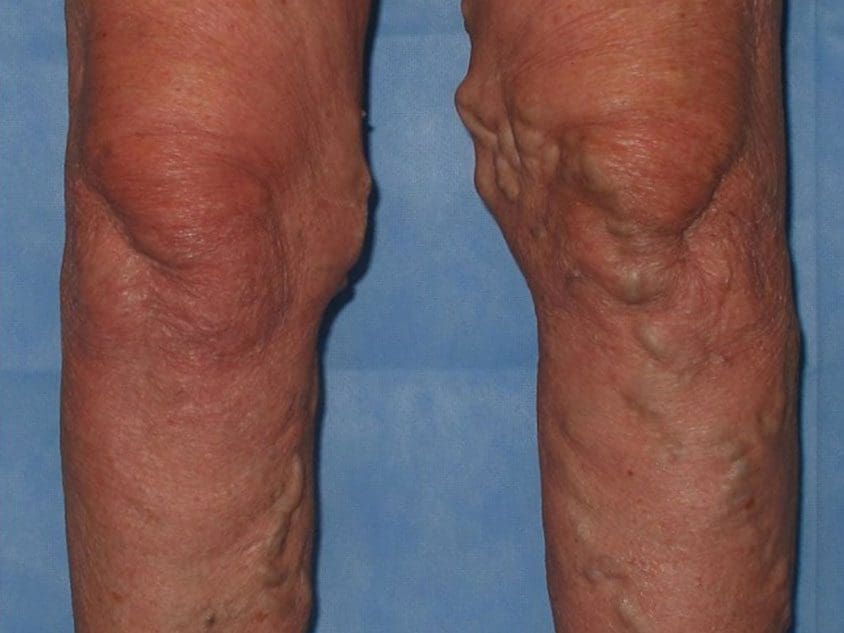 BEFORE
AFTER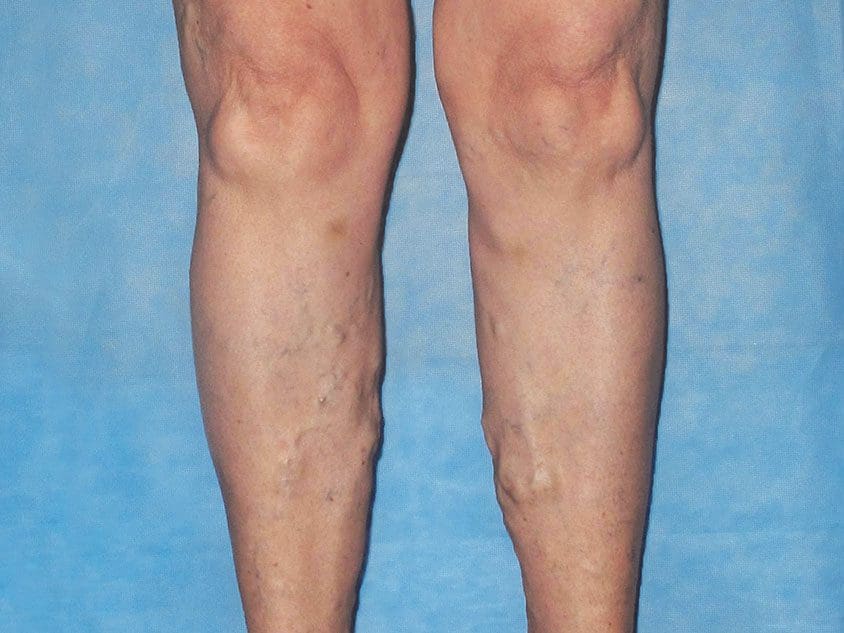 BEFORE
AFTER
Varicose Vein Symptoms
In addition to the visible vein bulging, symptoms of varicose veins occur mostly in the legs and ankles. Varicose veins are enlarged veins that bulge and often appear twisted. Varicose veins feel raised if you pass your hand over the skin. 
While individuals may experience different varicose veins symptoms, they can include: 
Burning sensation in legs

Difficulty getting comfortable
What Causes Varicose Veins
Varicose veins are caused by weak or malfunctioning valves inside the veins. These valves help your body fight gravity to deliver blood to your lungs and heart. But when the valves start to leak, blood pools in certain parts of the veins, causing the veins to swell. This is why varicose veins appear enlarged and twisted. 
The following factors can contribute to the risk of developing varicose veins:
Genetic predisposition to vein disease

Age (adults over the age of 50 have an increased risk)

Standing or sitting for long periods of time
Causes
Most of us have a genetic predisposition to developing vein disease, which means we have a family history of varicose veins or other vein diseases. Other causes of varicose veins include:
Pregnancy
Gender (women are affected more than men)
Injury or other trauma to the leg
Obesity
Symptoms
Symptoms of varicose veins occur mainly in your legs or ankles and can include:
Fatigue or heaviness in the legs
Aches
Burning
Itching
Swelling in the legs or ankles
Cramping
Throbbing pains
Sores or open wounds
Restlessness in the legs
Discoloration or strange texture of the skin
Difficulty becoming comfortable
Eating healthy, maintaining a healthy body weight, avoiding sitting and standing for long periods of time and staying away from tobacco are some of the best ways to avoid or lessen your symptoms.
Treatments
Before we consider any kind of treatment, you will be screened to make sure we completely understand your symptoms. From there, our team of experts will perform ultrasound vein mapping, so we can see exactly where the problem veins are located. If treatment is needed, we combine our years of experience with the latest cutting-edge technology to provide the best possible outcomes for our patients – all with minimal discomfort, little downtime and no scarring. Gone are the old-school treatments of vein stripping and open surgery. In fact, our procedures are so much simpler that most patients typically return to their normal activities the same day.
Varicose Vein Prevention 
Approximately 25% of adults develop varicose veins at some point in life. Listed below are some of the most effective ways to avoid or lessen the symptoms: 
Maintain a healthy body weight

Avoid sitting or standing for long periods
What to Expect at Gilvydis Vein Clinic
When varicose veins are affecting your everyday quality of life, it's time to find a reputable varicose vein clinic. The team at Gilvydis specializes in vein care and offers varicose vein treatment near you at our Rockford, Naperville, Sycamore, and Geneva vein clinic locations.
We take the time to learn more about your symptoms to provide the best possible outcomes for each patient. 
Varicose Vein Treatment Process
From the moment you schedule a free screening with our vein clinic in Illinois to the conclusion of your varicose vein treatment, you can expect the highest level of compassion and care. 
We start with a consultation visit and perform an ultrasound vein mapping to identify the veins that are not working properly. One of our vein specialists will explain the results and offer the treatment plan that's best for you.
We highly recommend wearing comfortable clothes during this appointment and to come prepared to talk through your history of vein-related symptoms as well as your medical history.
At Gilvydis Vein Clinic, we blend modern technology with advanced expertise in vein care. All treatments are performed at our cutting-edge outpatient clinic. You'll experience minimal discomfort and no downtime. 
Our vein treatments involve three main techniques that can restore the look of your legs and transform your leg health.  
Ultrasound vein mapping allows our ultrasonographer team to identify those veins that are not working properly and determine the best treatment option for the patient.  
Endovenous laser ablation uses a tiny laser and catheter to permanently seal varicose veins from the inside. 
During sclerotherapy, a solution is injected into small and medium-sized varicose veins to close them.
Aftercare 
Using cutting-edge technology allows us to provide patients with minimal discomfort, little downtime, no scarring, and the best possible outcomes. Patients typically return to their normal activities the same day, although we recommend you avoid strenuous activities for at least a week after your varicose vein treatment. 
Get Rid of Painful Varicose Vein Symptoms and Uncover Beautiful Skin
Read What Our Patients Have to Say
When it comes to your health, experience and expertise matter. At Gilvydis Vein Clinic, we focus exclusively on vein care and are experts when it comes to finding solutions to improve our patients' lives. Discover for yourself how we've made a difference. 
Long days of teaching exacerbated the burning and restless feelings in Kendra Brauer's legs. The bruises and visible veins also provoked curious questions from her second-grade students if she wore anything shorter than full-length pants. Brauer first noticed a bruise on her leg when she was in her mid-20s. Slowly, more veins showed up and […]
REQUEST A FREE SCREENING BELOW!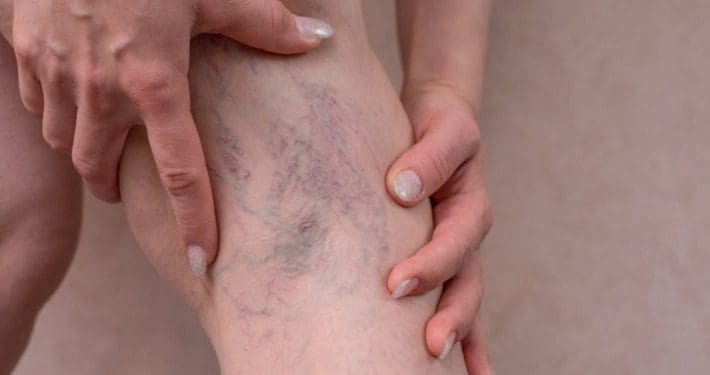 Varicose veins may look harmless at first—but this couldn't…
Gilvydis Vein Clinic
Locations
ACCREDITATIONS