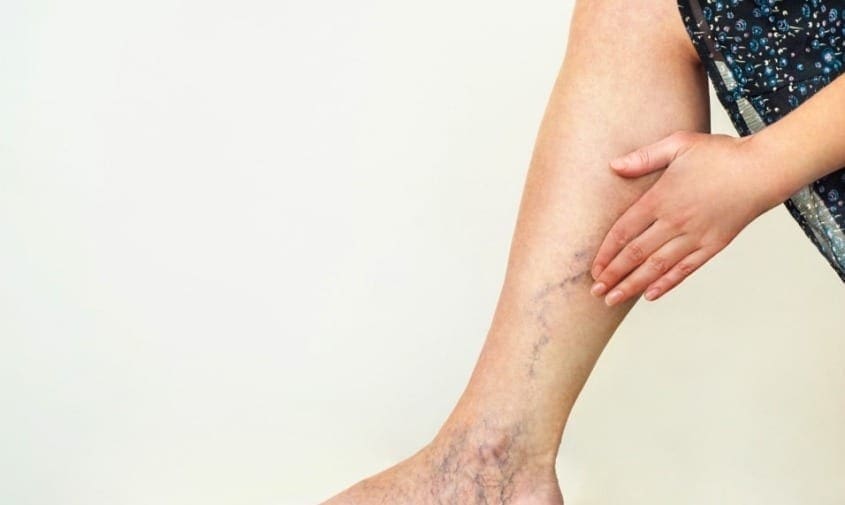 What Are Spider Veins?
Spider veins are the dark purple or blue lines that show up near the face or legs' surface because of damage to the veins. While they usually aren't painful, they may make your legs feel heavy or achy, and the skin may burn, throb, or itch around spider veins after a long day on your feet. Spider veins on the face are usually bright red instead of blue or purple. They are common on the cheeks, nose, and even the neck. Several things that make blood vessels expand, like drinking alcohol, eating spicy foods, or heat, can make the appearance of spider veins on the face more prominent. 
How to Prevent Spider Veins?
Several factors affect your risk of developing spider veins, including age, gender, and genetic predisposition. However, there are ways to reduce your risk of developing them. 
Wear Sunscreen
Sun reduces the amount of collagen that builds connective tissue, causing the skin to weaken and lose elasticity and reducing pressure around the veins. The result is thin skin that shows blood vessels more prominently. The answer is to block the damaging UV rays by wearing sunscreen. This one simple step can reduce sun damage and reduce the likelihood of developing spider veins. Applying a broad-spectrum sunscreen with a minimum of SPF 30 every two hours is the best way to prevent spider veins on the face.
Exercise Regularly
Exercise not only reduces stress and helps regulate body weight, but it improves circulation. Cardiovascular exercises like running and walking are a great preventive treatment for spider veins and many other conditions. 
Lose Weight
Extra weight adds more pressure to veins. Decrease your risk of vascular damage by keeping your body at a healthy weight with a balanced diet and regular exercise.
Don't Sit or Stand for Long Periods
Standing and sitting for long periods causes blood to pool in the legs, increasing your risk for vascular issues like spider veins. If your job requires you to stand or sit for long stretches, periodically change positions, shift your weight, do squats and calf raises, or take a brisk walk on breaks. This keeps the blood flow from becoming stagnant and potentially damaging the veins. 
Wear Low-Heeled Shoes and Loose Clothing
Your choice of clothing may influence your risk of spider veins. High heeled shoes don't allow your calves to stretch, limiting the range of motion. Tight or constrictive clothing can impede blood flow. Choose lower heeled shoes and loose clothing to allow for a full range of movement to prevent spider veins. 
Put Your Feet Up
Particularly, if you are on your feet a lot, take an occasional break and put your legs up. Elevating legs above the heart reduces pressure on the veins by allowing blood to flow out of veins and back to the heart easily.
Ways To Prevent Spider Veins During Pregnancy
Pregnancy increases vascular pressure and the risk of developing spider veins. The good news is that they usually disappear on their own approximately four months postpartum. In addition to the other suggestions for how to prevent spider veins, try these tips if you are pregnant:
Wear a support hose or compression socks.

Don't cross your ankles when you sit. 

Put your feet and legs up as often as possible.

Sleep on your left side and support your back with a pillow.
Can Spider Veins Be Treated?
The best way to know your treatment options is to schedule an appointment with your vein specialist in the Northern Illinois areas. There are several potential underlying reasons for spider veins, and your physician will want to make sure you are getting the right treatment for your condition. The three primary techniques for treating spider veins include:
Ultrasound vein mapping

Endovenous laser ablation

Sclerotherapy
Ultrasound vein mapping is an essential first step in treatment that allows the medical team to see your veins and identify any problem areas. Endovenous laser ablation is one of the most highly effective methods for treating conditions like spider veins and varicose veins. Using a tiny catheter and laser, your specialist can seal off the problem veins from the inside, causing the defective portion to die and be eliminated by the body. The best candidates for this procedure are those who are at a healthy weight with an active lifestyle. 
Sclerotherapy is a safe, minimally invasive, and highly effective treatment for spider veins. This treatment is performed by injecting foam to close off small and medium-sized veins. The ideal candidate for sclerotherapy has small varicose veins or spider veins in the legs, no history of clotting issues, no pregnancy or births in the past three months, and is between 30 and 60 years old. 
If you are suffering from spider veins, contact the team at Gilvydis Vein Clinic today. We have three locations in the Northern Illinois areas.
https://gilvydisvein.com/wp-content/uploads/2020/12/5-natural-cures-for-varicose-veins.jpg
640
956
Rimas Gilvydis
https://gilvydisvein.com/wp-content/uploads/2022/11/GVC-LogoUpdated.svg
Rimas Gilvydis
2021-02-12 13:53:34
2022-08-29 14:02:03
How To Prevent Spider Veins