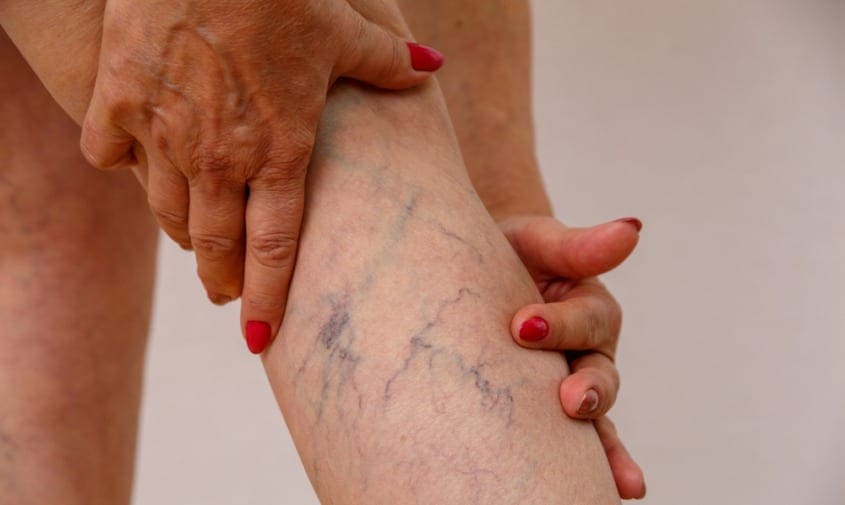 Looking for the perfect spider vein treatment? Sclerotherapy might just be the answer.
Of all the spider vein treatment options, sclerotherapy seems to check all the boxes. It's minimally invasive, requires little to no healing, and is over in a matter of minutes. But before you decide whether it's right for you, read on to learn about a common treatment for spider veins called Sclerotherapy.

What are Spider Veins?
Spider veins are small, damaged blood vessels visible on the surface of your skin. They usually have a red or purple hue and are commonly found on the legs or face. Contrary to popular belief, people of all ages can get spider veins, including younger people. However, they're typically present in those over the age of 50. 
If left untreated, spider veins can worsen or cause vein disease and unpleasant symptoms, like aches and pains—and in serious cases, blood clots and ulcers. Fortunately, you might be able to minimize spider veins' development by staying informed about their risk factors. These include:
Sun exposure

Obesity

Lack of exercise

Hormonal changes, such as pregnancy

Some types of medication
What to Know Before Sclerotherapy Treatment

Avoid medications like tetracycline, Minocin, aspirin, and ibuprofen 48 hours before the procedure

Don't apply lotion to your legs before or after the procedure

Wear shorts to your appointment

Mention any previous vein treatments you've had in the initial consultation
Sclerotherapy for Spider Veins and Other Vein Disease Treatment
Sclerotherapy is up to 80% effective in treating damaged spider veins, and fewer than 10% of people report that sclerotherapy did not help treat their veins. It's not only beneficial for spider vein patients, however. 
Sclerotherapy also helps treat varicose veins. Instead of liquid sclerotherapy (which is what is used for spider veins), foam sclerotherapy is used for the treatment of varicose veins. This treatment still uses Polidocanol, but with added oxygen and carbon dioxide. This makes it more effective for treating varicose veins. It helps get rid of varicose veins by redirecting the blood to flow through healthier, undamaged veins. Additionally, sclerotherapy aids in treating hemorrhoids for those who can't risk surgical procedures.
Is a Sclerotherapy Procedure Right for Me?
Wondering if sclerotherapy is right for you? Looking for the perfect vein treatment to help you love your legs again can be challenging, but sclerotherapy has many benefits to consider.
Benefits of Sclerotherapy Treatment:
Minimally Invasive.

Sclerotherapy just requires some simple prep and an injection or two—which means you can get back to doing what you love in less time.

Helps Diminish Damaged Veins.

By injecting the sclerosant agent, the appearance of spider veins and varicose veins will fade within a couple of weeks. 

Gets Rid of Vein Damage Symptoms.

As your damaged veins heal, the symptoms of them will also be alleviated. 

Can Be Covered by Insurance. 

Liquid sclerotherapy for cosmetic spider veins isn't covered by insurance. However, if you need sclerotherapy for varicose veins, your insurance might cover it.
While sclerotherapy can help almost anyone, those who're pregnant or breastfeeding aren't eligible for sclerotherapy. If you have had a blood clot before, your eligibility could be impacted but will be determined by a physician on an individual basis. Similarly, if you have veins that might be used for future heart bypass surgery, you may not be eligible.
Finding Sclerotherapy Treatment Near Me
Ready to get sclerotherapy? Then it's time to find the perfect vein clinic for you—and that's where we come in.
At the Gilvydis Vein Clinic, not only will you get a top-rated experience, but you'll also get treated by one of the best board-certified vascular and interventional radiologists in the county. The Gilvydis Vein Clinic is also one of the only four vein clinics in Illinois that is certified by the Intersocietal Accreditation Commission. Rest assured that your vein procedure will be perfectly customized to give you the best possible results, whether you go to our Geneva or Sycamore locations. Don't wait—contact us today to schedule your free screening.
https://gilvydisvein.com/wp-content/uploads/2021/05/shutterstock_1229178862-2.jpg
667
1000
Rimas Gilvydis
https://gilvydisvein.com/wp-content/uploads/2022/11/GVC-LogoUpdated.svg
Rimas Gilvydis
2021-03-03 17:27:39
2021-05-07 11:21:58
Treating Spider Veins With Sclerotherapy