What is a Pulmonary Embolism?
An embolism is a medical condition where a blood clot blocks one of your arteries. When this happens in the lungs, it's called a pulmonary embolism. A pulmonary embolism means the arteries in the lungs cannot transport the low-oxygen, high-carbon dioxide blood from the heart to the lungs. This condition is frequently the result of a deep vein thrombosis (DVT) that has broken apart or traveled from the legs or other body parts. 
The lungs play an essential role in delivering oxygen to the brain and heart, so the condition is very serious. Pulmonary embolism treatment is imperative for preventing lung damage, protecting vital organs, and saving your life.
Causes
There are many causes for a pulmonary embolism, but the most common is DVT. According to the Department of Health and Human Services, every year about 300,000 people experience a pulmonary embolism because of DVT. When a pulmonary embolism occurs, a piece of this clot breaks off the main clot and travels to the lungs.
The following are other causes of a pulmonary embolism, but they do not occur as frequently as DVT:
Air bubbles
Fat deposits (these can be released when a bone is broken or when a limb is amputated)
Tumors
Collagen and other tissues
Amniotic fluid
Symptoms
The most common symptom of a pulmonary embolism is a sudden shortness in breath or difficulty breathing. Other symptoms include:
A sharp pain in the chest that gets worse if you cough or breathe deeply
A cough that produces mucus that is pink in color and has a foamy consistency
Since a pulmonary embolism can be life-threatening, it is important to see a vein doctor or emergency physician as soon as possible if you notice any of the above symptoms.
You can decrease your risk of a pulmonary embolism by avoiding smoking, eating a healthy diet and maintaining a normal weight for your height and age. Also, it's important that when traveling long distances you take frequent breaks and walks to improve blood circulation and decrease your risk of clotting.
Treatments
The most common treatments of a pulmonary embolism are anticoagulant medications such as warfarin (Coumadin), heparin and clopidogrel (Plavix). Other treatments – if the patient is unable to take anticoagulants – can include surgically removing the clots or using a catheter to insert a filter into the central vein of the body.
The Impacts of a Pulmonary Embolism
A pulmonary embolism develops in approximately 40-50% of DVT patients. It is the third most common type of cardiovascular disease behind coronary artery disease and stroke. Early detection is crucial. Potential impacts of pulmonary embolisms include:
Acute right ventricular failure, also known as RV failure

Irreversible lung damage, also called pulmonary infarction

Critically low blood oxygen levels

Organ damage from oxygen starvation

Death
The good news is that quick diagnosis and treatment can potentially reverse some of these impacts such as RV failure. However, if left untreated, the mortality rate of pulmonary embolisms is as high as 30%, as opposed to only 8% of those diagnosed and treated.
What Causes a Pulmonary Embolism?
Normally, the body should break down any abnormal clots, but this doesn't always happen. Certain activities and conditions raise the risk of developing a pulmonary embolism.
Leg or hip fractures

A family history of DVT or embolisms

Hereditary blood clotting disorders

Obesity

Prior stroke or heart attack

Inactive lifestyle
The most common cause of pulmonary embolisms is a condition called deep vein thrombosis (DVT). DVT leads to blood clots in the veins of the legs or pelvis. And if you have varicose veins, your chance of getting DVT is five times higher. However, there isn't always just one clot. Many times, there are multiple clots involved in pulmonary embolism. 

DVT can occur due to bone fractures, muscle tears, surgery, or other types of deep injuries. Chemotherapy treatments and certain medications that cause increased clotting may also cause problems. Extended periods of sitting can also cause blood to pool in the legs and clot.
Less commonly, materials other than blood clots can result in a PE, such as:
Bone marrow

Tumor fragments

Air bubbles
Risk Factors of a Pulmonary Embolism
Even though virtually anyone can develop a PE, some factors increase the risks.
Medical Conditions, Treatments, or Procedures
Blood clotting disorders

: Blood clotting disorders like

Factor V Leiden

, thrombophilia, and other hypercoagulable states like prothrombin gene mutation, lack of sufficient natural proteins that prevent clotting, high levels of homocysteine, fibrinogen, factor VIII, IX, or XI or dysfibrinogenemia, or abnormal fibrinolytic system.

Broken bones:

Breaks in long bones like those in the legs or bones in the hips and pelvis can increase risks for PE. 

Cancer and chemotherapy:

Some cancers that have metastasized like pancreas, ovarian, brain, breast, colon, kidney, lung, and stomach have an increased risk of blood clotting. Chemotherapy to treat these cancers increases the risk, as well.

Coronavirus disease 2019 (COVID-19):

Patients exhibiting severe symptoms of COVID-19 have increases risks of PE.

Heart disease:

Cardiovascular disease and heart failure lead to a higher risk of blood clots.

Kidney disease

: Chronic kidney disease and nephrotic syndrome make clotting more likely.

Surgery:

Surgery, particularly joint replacements, is

one of the top causes of blood clots

that can lead to PE.
Impaired Blood Flow
Periods of prolonged inactivity lead to a higher risk of DVT and PE. Bed rest after surgery or trauma that prevents movement of the legs can put patients at a higher risk of clotting. Sitting for long periods is also a high-risk factor. If you work at a desk or travel in cramped positions, you should schedule a time to get up and frequently move to reduce the risks of clotting due to inactivity.
Other Factors
Age: The risk increases after the age of 40.

Estrogen supplements: Birth control and hormone replacement therapy that elevate estrogen levels can lead to an increased risk of clotting.

Excess weight: Overweight patients are at increased risk of many diseases or complications, including blood clots and PE. 

Family history and genetics: Your chances of developing dangerous clots go up significantly if you have a close family history of DVT or PE.

Pregnancy: Hormones and pressure on the pelvis can raise the clotting risk. 

Smoking: Like obesity, smoking increases your chances of developing many diseases and disorders like PE.
Take Steps to Protect Yourself From a Pulmonary Embolism
What should you do if one or more risk factors apply to you? If it's possible to reduce your risk with lifestyle changes such as exercising more regularly, go for it. Genetic factors aren't something you can change, but you can stay alert for any warning signs.
The best way to prevent pulmonary embolism is to prevent any blood clots. Talk to your doctor about your risks and individual ways you can prevent blood clots (and if you don't have a doctor, make sure to get established with one. For high-risk patients, doctors may suggest medications such as blood thinners. Heart-healthy eating, exercise, and quitting smoking can go a long way to minimize your chances of developing a PE.
If you can't move your legs or lower body due to bed rest or travel, wear compression stockings or socks. If possible, when traveling, schedule periodic walk breaks. Finally, get up and start moving as soon as it is safe to do so after surgery.
For more information, contact our team directly at Gilvydis Vein Clinic. You can also click below to schedule a regular screening to keep an eye on vein and artery health.
Long days of teaching exacerbated the burning and restless feelings in Kendra Brauer's legs. The bruises and visible veins also provoked curious questions from her second-grade students if she wore anything shorter than full-length pants. Brauer first noticed a bruise on her leg when she was in her mid-20s. Slowly, more veins showed up and […]
REQUEST A FREE SCREENING BELOW!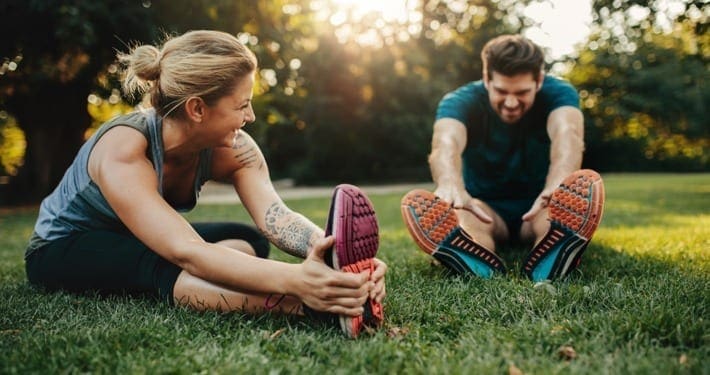 Varicose veins can be painful and uncomfortable. They can leave…
ACCREDITATIONS